What services are offered by CTM?
Pre and post-divorce issues:
possession and access/visitation
modification of prior orders
Workplace disputes
Parent-adolescent conflicts
Family mediations (probate, business, interpersonal)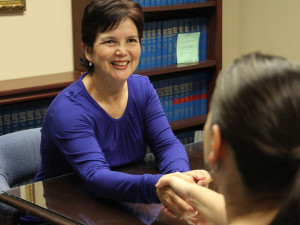 F.A.Q.
How do you charge for your services?
I charge an hourly rate that can be shared equally with the other party or one party can pay for the full amount; payment is due the day of the mediation.
What long is a mediation session?
Typically fours hours; I have a two hour minimum.
Do you travel to conduct mediations?
I'm available to travel to an attorney's office in Travis County and outside Travis County with travel paid by the parties.
Do you offer a free consultation?
I offer a free twenty-minute consultation to an individual representing him/herself and to parents consulting on a parent-adolescent conflict.
What if I have to cancel a mediation?
A mediation cancelled by either party for any reason on or before the third business day prior to the mediation is subject to a cancellation fee at my hourly rate.
How do I reach you?

Belinda and I have worked together on family-law matters for over twenty years. When Belinda mediates a case, she actively listens to the parties, quickly grasps the parties' positions and works efficiently toward an effective outcome. Anyone who is looking for a compassionate, attentive and effective mediator will find one in Belinda.